The Los Angeles based event, Emo Nite, is a monthly take over of both The Echo and Echoplex in Echo Park, California.  The event was first deemed "Taking Back Tuesday" when three close friends invited their other friends to come dance to their favorite songs of the mid 2000s' in a dive bar called "The Short Stop," one December night roughly two years ago.  Since that moment, the event has gained a strong and dedicated following of attendants and fans alike from not only Southern California, but also around the country.  The event has also drawn famous musicians and celebrities alike to the Echo/Echoplex, including: Mark Hoppus (Blink 182), Halsey, 5 Seconds of Summer and Jack Barakat (All Time Low). T.J. Petracca, Barbara Szabo, and Morgan Freed are the founders of both Emo Nite and their marketing company, Ride or Cry Collective.  All three founders recently sat down with Concert Crap to discuss two years in review, moving past the "nostalgia" factor of Emo Nite and "Drake Yoga."
–
Concert Crap: Emo Nite was a very innovative event at the time of its inception. What was the feedback and criticism back then?
Barbara Szabo: There really wasn't much of it in the beginning. If anything, one person in 100 "hated" it just to hate, but overall, there was a good amount of positive feeback.
T.J. Petracca: There is always that "one person" that gets mad that you don't play what that person and their "three friends" like, but other that that, we've gotten a lot of people that have enjoyed themselves.
CC:  It seems your guys' event nods primary to the music of the mid 2000s'. Why were you guys drawn to this era?
T.J. Petracca: It basically comes down to the music we like. We're not promoters or D.J.'s. We didn't do all of this to be in the vein of a "90s night." We did this out out of a place a genuine love for the actual music and the scene. We're so far from a nostalgia night at this point.
Barbara Szabo: We also play other "emo" music other than from the mid 2000s'.  We play emo bands from the '90s and also started dipping into modern artists.  We also have bands play upstairs (The Echo).  All the bands we have had recently have been together for a year.  They are "brand new" bands.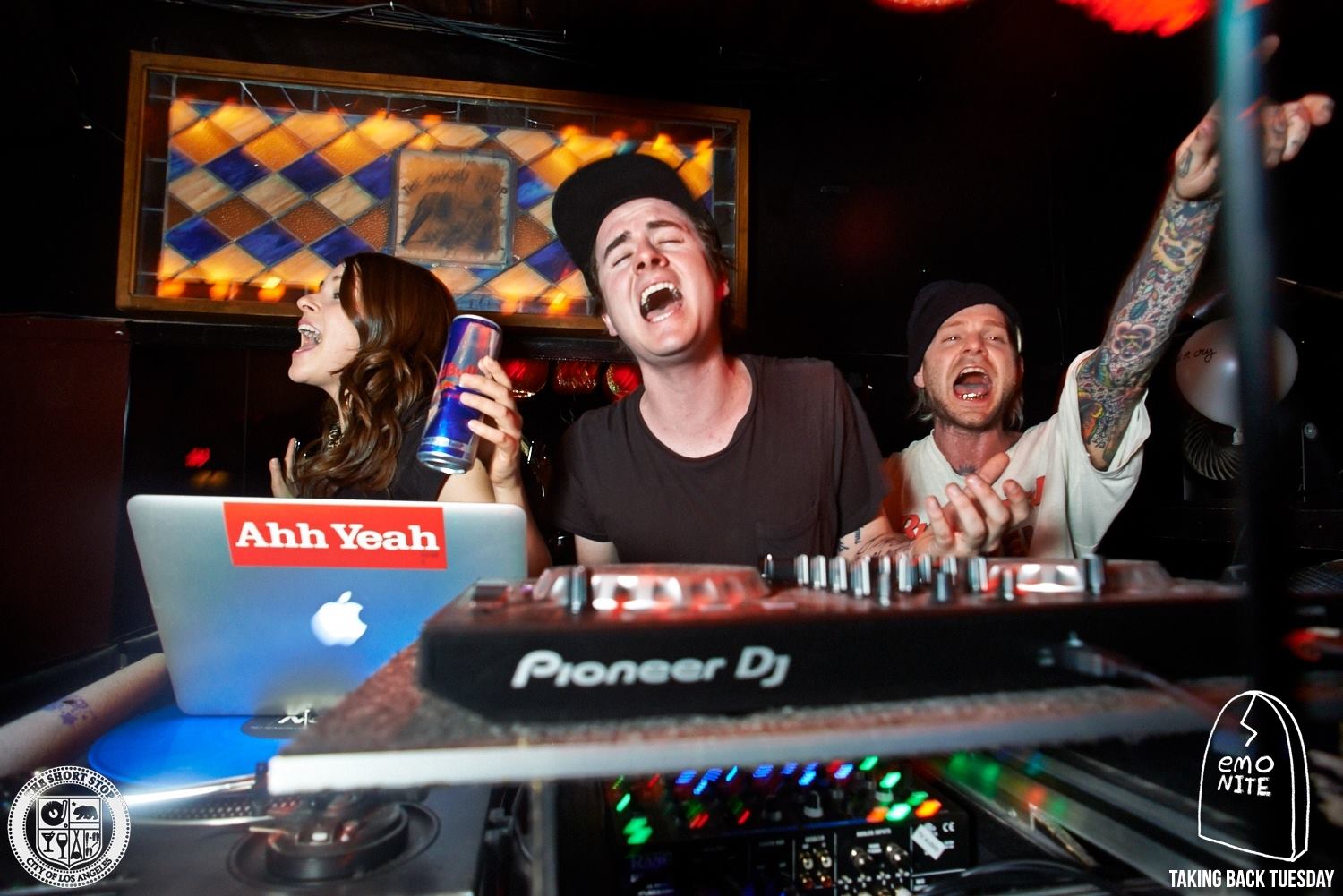 CC:  With everything that has happened in the past two years, did you guys ever imagine the event would get to where it is today?
All: No! *laughs*
Barbara Szabo: Did you see the line out there? (The line stretched for three blocks.)
Morgan Freed: Yeah, everyone in line was cheering for a taco truck.
Barbara Szabo: But yeah, I really don't think there was a way of imagining that ever happening.  All we ever wanted to play was play the music we loved and want to play and hang out with our friends. Everything Emo Nite has become was impossible to imagine when we first started this.
Morgan Freed: We saw how much it meant to people and we wanted to keep it going to create an experience for them. We wanted it to become something they could share with their friends and whatnot.
CC: You guys have have had a plethora of guest D.J.'s come out in the past two years of doing Emo Nite.  Do you guys still experience that "starstruck" feeling when your favorite artist over the years comes out to your guys' events?
Barbara Szabo: Oh yeah. Last month we had Good Charlotte come and play like three acoustics songs and it was like one of the greatest moments of my life.  I don't think that feeling will ever go away.  I think T.J. cried when Chris Carrabba (Dashboard Confessional) came out to play.  I cried when The Used was here.
T.J. Petracca:  Oh I definitely cried when Chris Carrabba played. Morgan cried when Chris Conley (Saves the Day) played.
CC: You guys also run your own business from what we've seen called "Ride or Cry Co." How does your business tie into Emo Nite?
T.J. Petracca:  We had all worked in similar industries before this.  Babs worked for CAA (Creative Artist Agency), and I was at an artist management company.  After that we both worked at a social media agency and Morgan worked at a creative agency. Everyone's skill translated over into Emo Nite in the ways we built and marketed it.  Once it took off, we decided we wanted to focus more on the event and more on what we wanted to do.  We wanted to do everything our way instead of working for someone else.  It's a really good feeling in terms of starting your own company.
Morgan Freed: It feels like a surreal thing.  It feels like we are still just winging it.  It's soon going to be a year and a half of owning our own company and it crazy to think about.
CC:  With everything going on right now, what do you guys feel about the future just in general with you guys and the event.
Morgan Freed:  Everything is in extremes for the most part: extreme anxiety, extreme happiness, extreme pride, ect.  Everything feels extreme since you did it all yourself, so when you messed up, you feel it more and when you do something right, you feel more accomplished.
T.J. Petracca:  We learned a lot over the past year and we are going to continue learning more.  We've been winging it this whole time but at the same time, but we do work really well together.
Barbara Szabo: …and we work really hard, too.
CC: Out of all the guest D.J.'s Emo Nite alumni, which was your favorite and why?
Morgan Freed: My personal favorite was Chris Conley because Saves the Day has always been my favorite band.  He was one of the sweetest, kindest guys I have ever met.  He even FaceTimed my sister during one of our events.
Barbara Szabo: In terms of live bands, definitely the band Movements.  As for D.J.'s, my favorite was Mark Hoppus because he was one of the nicest guys I have ever met.  Having Mark being a part of it definitely helped jumped start Emo Nite to what it is now.
T.J. Petracca:  Chris Carrabba hands down.
Barbara Szabo:  One of the funniest moments ever for me was listening to T.J. book Chris Carrabba's flight for Emo Nite.  T.J.'s voice was shaking and he was sweating.  He even misspelled Chris' name.  He tried to book it as fast as he could so there would be no backing out.
T.J. Petracca:  It was so surreal booking Chris Carabba.  We had to call Delta when I misspelled his name to correct it. We wanted him to come out so badly and I'm glad it all worked out.
Barbara Szabo:  It's really, really awesome that all these people and artists want to be a part of Emo Nite.  Without them, this event would literally be nothing.
CC:  Back to Ride or Cry.  Something that has been gaining a lot of traction from Ride or Cry recently has been "Drake Yoga."  How did you guys go about making this into a reality?
T.J. Petracca:  It was my friend Paul's idea.  He put up a funny Facebook status about chakras during his teacher training.  He was talking about the "sixth" chakra and I commented "Views from the Sixth Chakra."  It took off from there.
Barbara Szabo: It's crazy how much it has blown up.  It even made it into one of London's biggest publications: "Time Out London".  It made it into the "Things we wish we had in the city" section.
T.J. Petracca: Anything we do we try to do it our way and have as much fun with it as we can whether it be Emo Nite or Drake Yoga.  Our attitude is "let's make the part we want to attend… lets make the merch we want to wear." That's kind of our guideline.  We always asks ourselves, "Would we want to be here?"
CC:  Emo Nite has gone "cross country" the past year. Any plans to explore "uncharted territory?"
Barbara Szabo: We want to go to Japan.
T.J. Petracca: We would love to go international.  We recently had some friends of ours come over to throw a similar event to Emo Nite called "Team Up."  We want to go overseas with them and do something there.
Barbara Szabo: We're all doing an 18+ Emo Nite after party for Chain Fest in Orange County, so yeah that should be fun as well.
CC: A lot has taken place over the past two years of Emo Nite. What were your guys' favorite memories through it all?
Barbara Szabo: My favorite memory was when Halsey danced on our stage. She's everything.
Morgan Freed: The one year anniversary for sure. It was everything you wanted from that MTV Dashboard Confessional performance, but you were there and it was better. It was incredible.
T.J. Petracca: I liked all the times when we joked about doing something and ended up actually doing it.
CC: Thank you guys so much for your time tonight with us. It was honestly means a lot you all took the time to meet with us and gave us this opportunity to get to know you all a little better. Do you guys have any closing thought before we conclude?
Morgan Freed: Keep coming back.
Barbara Szabo: Keep following your dreams; whatever they may be.
T.J. Petracca: Just remember what is important.
Barbara Szabo: Call your mom.
T.J. Petracca: Call people who love you and take care of you.
Barbara Szabo: Yeah. Nothing is as important as the people that love you.  No amount of Instagram likes is as important as friends and family and it's important not to forget that because it can be so easy to forget sometimes. Very, very easy to forget because you get wrapped up in all the cool things and work. Yeah, that's literally the only thing that matter, the people that love you.
Answers by Morgan Freed, Barbara Szabo, and T.J. Petracca.
–
Post and interview by Matt Saunders
What are your thoughts on Emo Nite? Comment below.
Follow Concert Crap on Instagram
Follow Concert Crap on Twitter
Follow us on Snapchat: @ConcertCrap
Or click the "Follow" link on the bottom right corner and type in your email to get updates sent directly to your inbox.
#ConcertCrap
[contact-form][contact-field label='Name' type='name'/][contact-field label='Email' type='email'/][contact-field label='Comment' type='textarea' required='1'/][/contact-form]